I wrote a piece about Bitcoin a few years back. Since then, Bitcoin mania has waxed, waned, and waxed again. Given its new record high and accompanying successive round of mania, it's time to return to the subject of Bitcoin.
Why Bitcoin Fails
Firstly, Bitcoin a terrible store of value. Compare Bitcoin to cash, specifically the United States dollar. Back in 1980, the dollar lost more than 14% in just one year. That's not great. However, anyone parking cash in a savings account made most of that back.
Fortunately, inflation has since been whittled down to low single-digit figures since the highs of the 1980s. So, while the dollar loses some amount to inflation annually, those holding USD maintain the vast majority of purchasing power over time.
That isn't the case with Bitcoin. Bitcoin swings in price wildly. As a store of value, Bitcoin fails. Having picked one of the worst years for dollar devaluation, allow me to do the same for Bitcoin. At its previous high, Bitcoin reached $19,166 on December 16th, 2017. One year later, a single coin was priced a bit over $3,200. That's a loss of more than 83% in a single year. Anything that can lose more than 83% of its value in a single year isn't a good store of value.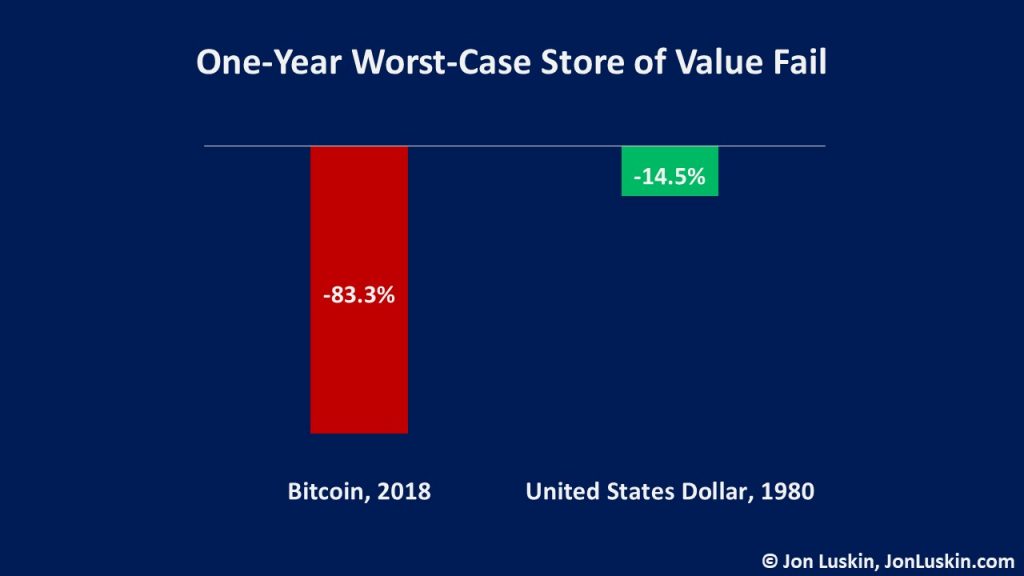 But, it's not just as a store of value where Bitcoin fails the test; Bitcoin's utility is limited. Bitcoin – specifically, unlike other cryptocurrencies – can process less than five transactions per second. Visa – as an example – processes thousands of transactions per second. With such limitations, it's doubtful that Bitcoin will be the exchange medium of the future.
Bitcoin is Not an Investment
Bitcoin fails as a store of value, and it fails as a medium of exchange. It also fails as an investment – so long as you define "investment" as something with intrinsic value – such as:
ownership in a profit-generating business,
debt making interest payments, or
real estate providing tenant rents.
Bitcoin does none of that. As with Dutch tulips, all Bitcoin does is fluctuate in value. Maybe it will go up. But, most likely, the price of Bitcoin will return to earth – when folks realize that there is nothing valuable about Bitcoin save for the next person who may (or may not) buy it for more money. In short, Bitcoin is a speculative bubble in the truest definition of the word.
Don't Be a Loser
Much like those who lost money in Gamestop, the real estate bubble before that, and the tech bubble before that, there are going to be clear diamond-handed bag-holders when the Bitcoin bubble inevitably pops.
If you've made money on the current cryptocurrency bubble, that's great. But, don't confuse that result with you making a good decision. You simply got lucky.
That's not to say, "don't throw some money at Bitcoin." Even I did – back in 2017. But, if you do, only do so with the paradigm that you're gambling with a small amount of fun money, money – that if lost entirely – won't blow up your financial plan or cause insomnia.
---
This post is for informational purposes. This is not investment advice. Speak with your financial professional before making any investment decisions. Past performance is not a guarantee of future returns.