Disclaimer: the following are jokes!
Fees Probably Don't Matter
Did you just hear about something exciting? Then, it probably makes sense to put all your money into it.
Don't bother to look up the fees. If it's got a cool enough story behind it, the fees probably won't matter.
That's because investing success is all about really cool stories that you can use to impress strangers at cocktail parties – and not by understanding a simple set of (boring) rules, like:
take the right amount of risk
use low-cost, diversified funds
stay the course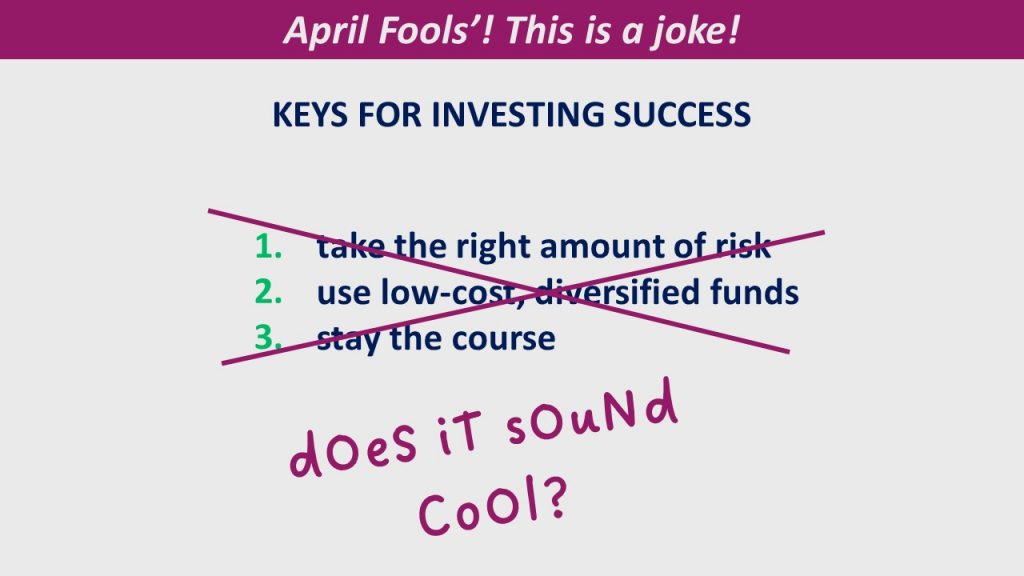 Taxes Are P>Taxes Are Probably the Most Important Thing
vesting, saving taxes is probably the single most important thing you can do. It's OK to put your hard-earned money into a high-fee, poor-performing fund, as long as it saves you a tiny bit on taxes.
The math on this is easy! If you lose $100 from a terrible investment, you can save $37 on your taxes. That's how the rich build long-term wealth: being willing to lose $100 to save $37.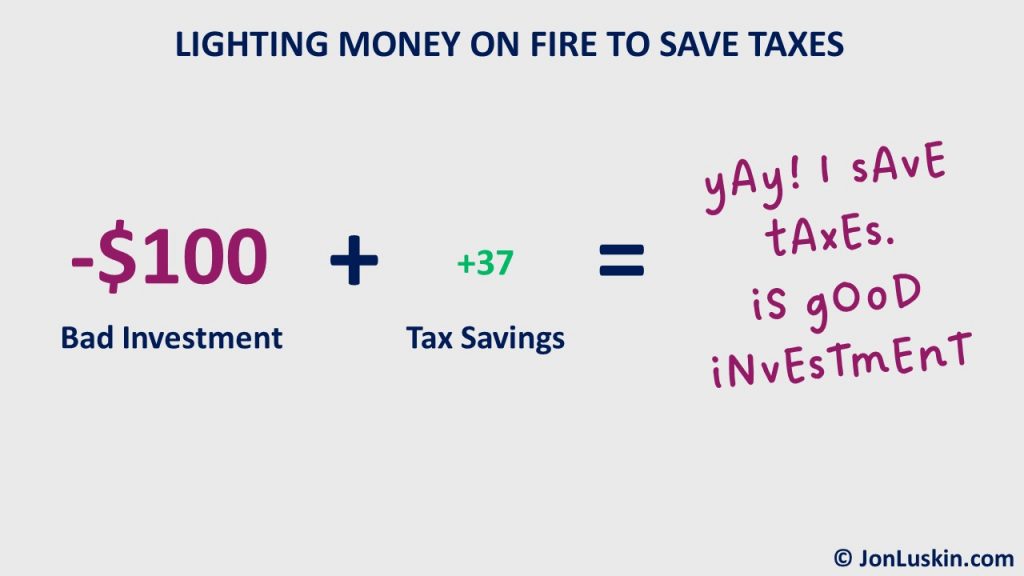 Panic Selling P>Panic Selling Probably Means Building Wealth
ng at all is happening in the world, panic selling is likely the best move. Bad stuff happens in the world all the time. And, over the long haul, being an investor through the market's ups and downs meant growing wealth. That's why jumping out of your investments at the slightest hiccup is probably the best strategy.
For example, if you sold near the bottom of the coronavirus crash, you'd have almost the same amount of money today. Compare that to the S&P 500, which is up roughly 40% since then. That's why selling out of the market whenever you get scared makes sense: you'll earn less money over the long haul!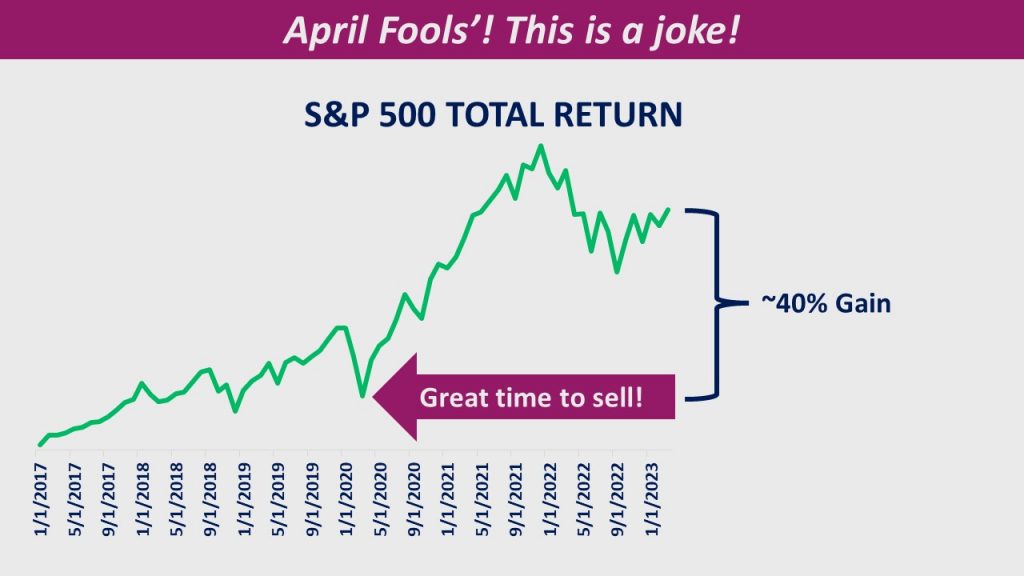 Complexity Probably Only >Complexity Probably Only Has Upsides
such thing as a too-complicated investing strategy. Making your investments more complicated than necessary probably only has benefits – with no downside whatsoever. Sure, you'll:
• pay more taxes,
• pay more fees,
• have a helluva time trying to maintain it, and
• leave your family a mess of a strategy that they'll have no idea how to handle when you die.
But think of how much fun it will be to watch your friends' eyes glaze over as you try to explain the precisely-engineered mix of 36 different types of things you're invested in, many of which you barely understand yourself!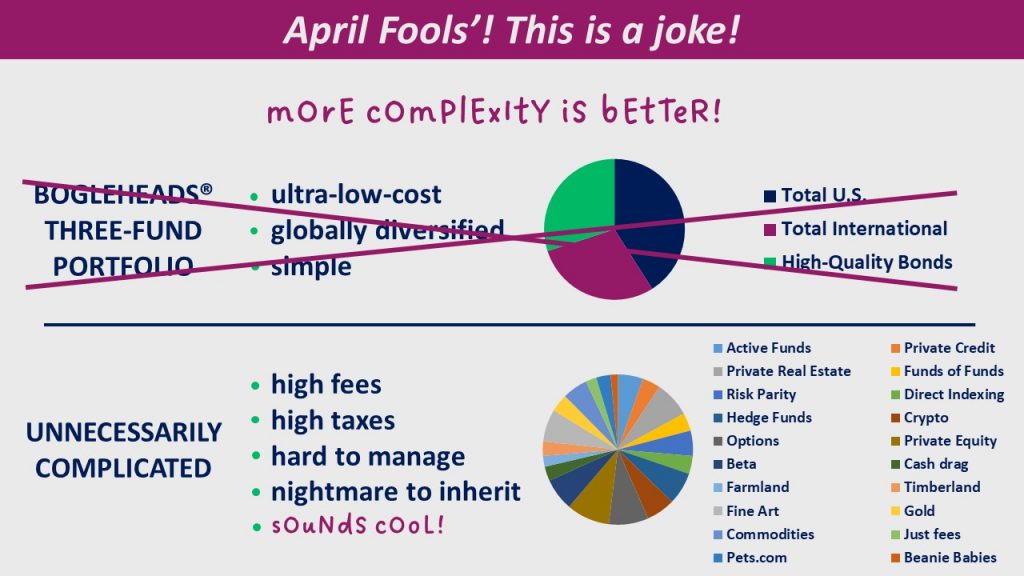 The Financial Media Probably Provides the>The Financial Media Probably Provides the Best Financial Advice
and they'll tell you their success came from listening to Jim Cramer. He – and the rest of the financial media – only have your best interest in mind. Don't think otherwise just because they make their money from ad revenue.
After all, if the financial media put up the same, boring-but-proven investing strategies, folks would still tune in. That's because people love to hear the same boring things over and over again.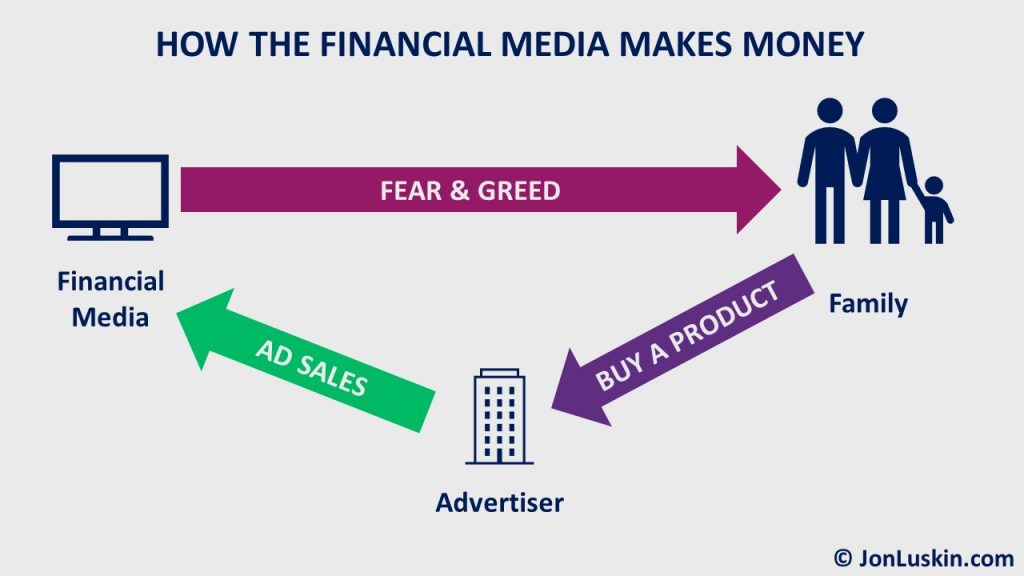 Don't Worry Your Pretty Little Head About How Advis>Don't Worry Your Pretty Little Head About How Advisors Make Money
s a financial advisor or financial planner is probably trustworthy. That's especially the case if they have a video on TikTok. And, if there are emojis on the videos, they're all the more credible.
If anyone ever tells you to do something with your money, it's probably always because it's the best move for you – not because they stand to benefit. That's to say, you probably don't need to think about how the advisor makes money. They'll never have a conflict of interest when giving advice.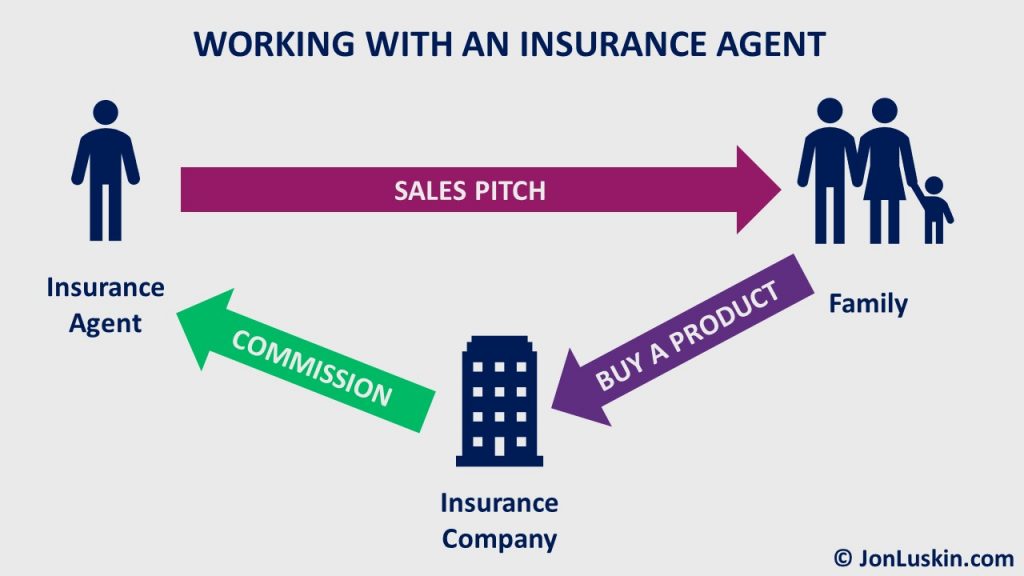 One of the world's greatest living investors, Charlie Munger, says:
"Show me the incentive, and I'll show you the outcome."
But, that guy is old and only worth two billion dollars because of decades of poor financial decisions. So, clearly, he's clueless – at least, compared to the fresh-faced influencers on TikTok. Instead of just two billion dollars, imagine how much wealth Charlie would have if he paid huge fees by buying terrible, complicated life insurance policies.
I know it sounds weird – but, the insurance salesman saying in every situation that everyone needs a special (high-fee) insurance product is always right. Oh, and the broker who says that you need to invest in a certain high-fee fund is likewise always right. And, of course, the investment manager saying their particular investment service is always the best thing for you is also always right.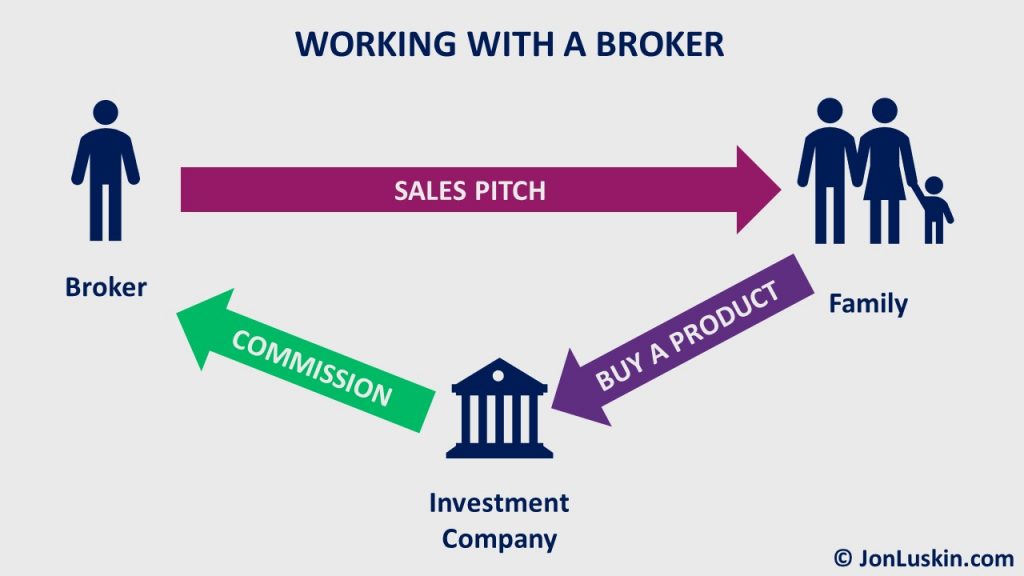 How can all these people be right when suggesting different things? It's certainly not because they stand to make more money when you do what they say. It's because those specific things that they happen to offer for sale are also, coincidentally, the best thing for you.
Isn't that nice? Of all the financial moves you could make, the person selling a particular service or product just so happens to have the right thing for you. Every. Single. Time. It sure makes it easy!
Now, you may think, "Ask the barber if you need a haircut." But, you could always use another haircut – even if you just got a haircut, are bald, or are trying to grow your hair for Wigs for Kids.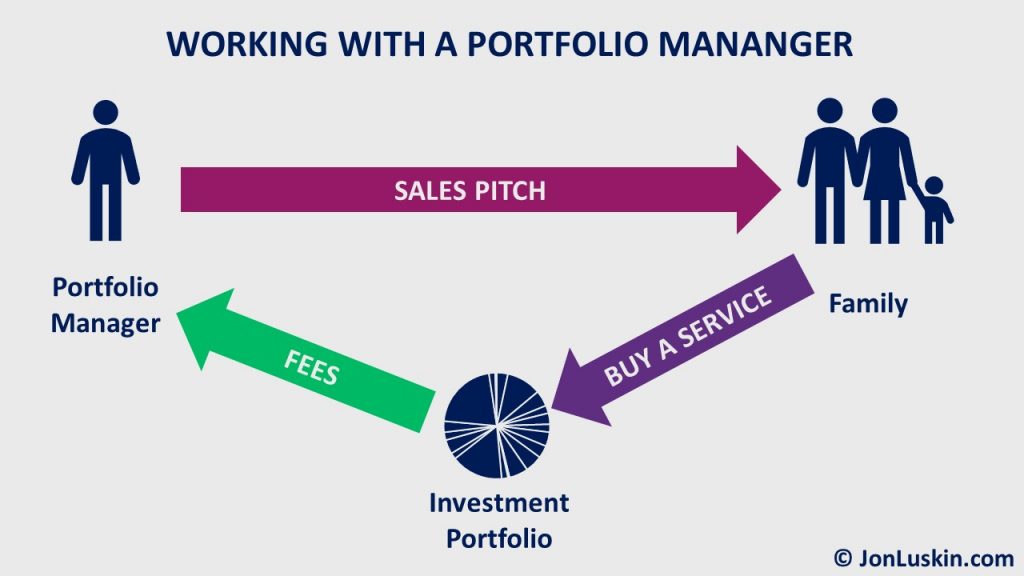 You Probably Shouldn't Pay for Financial Advice
Lastly, you probably never want to>You Probably Shouldn't Pay for Financial Advicee from the nice insurance salesman, broker, or investment portfolio manager.
Not paying for financial advice directly saves you money. And, not paying for advice certainly wouldn't mean getting bad advice. Because, it's not as if the person providing 'advice' needs to make a living somehow. And, if you're not paying them for advice, that advisor is being paid by someone else to push a product or service that makes them money.
The good news is that the insurance company pays the advisor to promote the thing that makes the most money for the insurance company. It's the same thing for the broker and the portfolio manager. Their solution to your problem makes them – but not necessarily you – the most money.
The worst case is that you'll be left with a terrible, high-fee, complicated product that you later have to figure out how to get out of. And that's not bad, right?
What you certainly wouldn't want to do is pay for transparent advice directly from a trained professional. Because that's expensive.