Recently, I was able to connect with a fellow advisor. Our topic of conversation was managing firm processes. "What is the best way to stay on top of a client task?" he asked.
That's an easy answer: a well-implemented customer relationship management (CRM) tool.
It doesn't matter if you're using JunXure Cloud, Redtail, or even Wealthbox. What matters are four critical best practices for CRM use:
Create workflows (action sequences) for every firm process, workflows that spare no detail.
Detail firm processes in a firm Procedures Manual
Frequently update your workflows.
Have every team member use the CRM consistently for every firm process, every time.
Workflows for Every Firm Process
I can't think of a single financial advisory firm process that does not need to be outlined in a CRM. Whether it's a manually-launched workflow for new client onboarding, or a workflow that pops up automatically every year-end to run client RMDs, every task needs to be in the CRM.
To quote a fellow JunXure conference attendee:
If it's not in the CRM, it didn't happen.
No Detail too Small for the CRM
Having the best CRM workflow means documenting every step for a given firm process. Arguably, there is no detail too small to be omitted from the step-by-step instructions that are your CRM workflows. If it needs to be done – or even considered – it needs to be included in the workflow.
To prove that no detail is too small, and no reminder too nagging for workflow inclusion, consider an example from my paraplanner days. As the firm's paraplanner, I was in charge of client meeting prep. This prep included setting out a plate of fruit for clients to enjoy during the meeting.
Providing a fruit plate was a critical step in creating the client experience. Therefore, not only was "fruit plate" bullet-pointed in the workflow for client meeting prep, but there was also a preceding bullet point to buy fruit at the grocery store before the client meeting. This was especially important for those days when client meetings occurred first thing in the morning – when I (as the firm's paraplanner) didn't have the time to hit the supermarket earlier in the workday. In short, every little tiny step – every single reminder – was documented in the CRM workflow.
Noting every single possible step of every process in a CRM avoids the mistake of missing the little stuff – like the nice touch of having a healthy snack for clients at meetings. Fortunately, the cost to line-item every step in your CRM's workflow is negligible: hit the enter key and type a few more words. In doing so, you can help prevent a big gaffe.
Easy-to-Understand Instructions
Firm processes documented in a CRM workflow needs to be written so that any firm outsider can easily understand the instructions. Micheal Gerber explains this idea perfectly in In The E-Myth Financial Advisor. To paraphrase Gerber's example, imagine asking an alien from another planet to "grab the car keys and go start the car." The alien – being an alien – wouldn't know what any of that meant. What are keys? What's a car? How does one "start it," and what does that even mean? You want CRM instructions – supplemented by a Procedures Manual (discussed later) – to make all processes crystal clear so that even an alien from another planet understands them.
Whether workflows are being followed by the new hire unfamiliar with firm processes, or the firm principal who sometimes can forget the little stuff, it benefits everyone to have every step of firm processes documented in the CRM.
Supplementing CRM Workflows with a Procedures Manual
Of course, there is a reasonable limit to the level of detail in a given CRM workflow. Putting too much detailed instruction into your workflow could result in less of a workflow than in an instruction manual. For this reason, detailed processes of how to do something – as opposed to the list of what to do – can be expanded upon in a firm's procedures manual.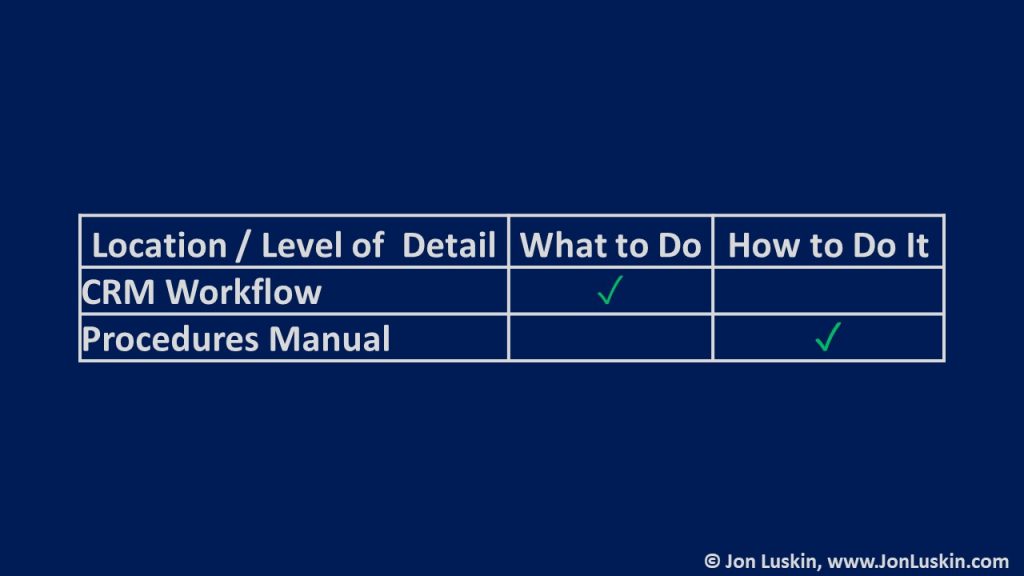 What is a procedures manual? For me, a procedures manual is simply a Word document outlaying extremely detailed instructions for a given firm process.
What Should Be in a Procedures Manual?
To distinguish between which instructions should be bullet-pointed in a CRM workflow versus expanded upon in a procedures manual, consider an example: billing.
For most Registered Investment Advisors (RIA) running an assets-under-management (AUM) model, billing occurs every quarter. And, – in my experience – billing is usually not a short or simple process. A procedures manual can help with the challenge of executing billing by detailing the billing process in its entirety. One way to do this could mean including screenshots – showing which buttons to click on which pieces of software – for greater detail.
The CRM workflow will line item such tasks as "compare current quarter's billing figures versus last quarter, confirming any large differences across client accounts quarter-over-quarter are valid." A procedures manual back up this CRM line item specifies which mouse clicks are needed to export as a CSV a billing summary of all client accounts in a given quarter.
Detailing processes in a procedures manual is especially relevant for a process like billing. That's because the combination of a low-frequency (once a quarter) but highly-detailed process means memorizing every step of billing can be quite challenging for the average human brain.
But, you don't have to settle for a Word file to document firm processes. At Define Financial, I used join.me to record videos of certain tasks. For example, I executed an investment portfolio rebalance using Fidelity's rebalance tool – having the entire exercise recorded with join.me. While I was out of the office, other team members could do my job because I had left such extensively detailed instructions behind – a video showing every step of the portfolio rebalance process.
In summary, every firm process – everything you do routinely in a financial planning firm – needs to have an accompanying documented set of instructions for that task. Those instructions should spare no detail. And when detailing instructions to the nth degree becomes cumbersome amidst the number bullet points that comprise a CRM workflow, supplement those instructions in a firm procedures manual.
Of course, you're not done just yet – and you never will be. You'll need to stay on top of both CRM workflows and the firm procedures manual, updating them as needed.
Keep Your CRM Workflows Up-to-date
Nothing is perfect; your well-designed CRM workflows will constantly evolve, changing over time. Updates to workflows can occur for many reasons, including a change in the firm process (which may even be a function of adding new team members). Even more likely, though – through practice – you'll learn that certain steps of a workflow are extraneous (or there's a better way to do something), or that you need to add something you originally missed. Or, you may decide what was once in a CRM workflow actually belongs in the procedures manual – or vice versa. Whatever the reason for the change, the result is that you need to update your CRM workflows regularly. Remember: this is a constant process that will never end.
Wherever you stand within your firm, I advocate for making CRM workflows as close to perfect as possible. And do this constantly! Keeping CRM workflows up-to-date ensures that every team member is empowered to do the right job, the right way, every time.
Guarded CRM Workflows
Depending upon your firm's size, your seniority within the firm, and the relative age of CRM workflows, updating CRM workflows may – or may not – be a simple proposition.
Within my personal finance career, I have run the gamut of experiences in firm seniority – and thus the ability to update CRM workflows with ease. At Define Financial, I had the fortune of not only crafting every CRM workflow, but onboarding the CRM in its entirety. (I say fortune because I do love using and updating a CRM!) As the firm's CRM nerd, whenever I saw a change to a workflow was needed, I made the change. It was that simple.
I've also had the opposite experience; I have worked at a firm where the firm was sufficiently large enough – and my standing within the firm so puny – that I had no voice updating firm workflows. And due to the sparse details of that firm's documented workflows, I could not grasp exactly how superiors wanted the job done. This meant that everyone on the team was left frustrated. What a shame!
Empower Team Member to Improve Workflows
The experience mentioned above convinced me of the importance of empowering team members to improve CRM workflows. Consider: if you created all the CRM workflows yourself, the workflows have just your perspective. What may be common sense or obvious to you is less so for someone that isn't you. (Remember: "grab the keys and start the car")
So, while the workflows may make sense to you, those same workflows may not make sense to anyone who isn't you! And if you're not the only one using the CRM, that's a mistake.
Empowering all team members to make CRM workflows detailed and up to date makes not only your life better, your teammates' life better, but also future team members too. Of course, not only will team members benefit, but clients will too!
Using the CRM Every Time
If you're going to have every firm process outlined in your CRM, you need to use your CRM every time you do that task! And this isn't easy: I'll be the first to admit that for those tasks you've done 1,000 times (dare I say an account rebalance), it may be enticing to skip using the CRM – just this once. After all, it's a relatively simple task that doesn't require notes, right?
Wrong! As any good compliance department will tell you, you need to take notes to document events. Whatsmore, using the CRM puts the process in front of you – ensuring that you don't miss a single step (like buying fruit the day before tomorrow morning's client meeting).
In short, avoid the temptation to skip what you think you can get away with. Launch the task every in your CRM single time, ensuring you don't miss a single step!
Linear and Non-linear Workflows in a CRM
Most CRMs offer the all-important workflow function. (This is when a set of tasks – often divided by team members – are strung together.) However, sometimes workflow design options are limited, such as when a CRM only offers linear workflows.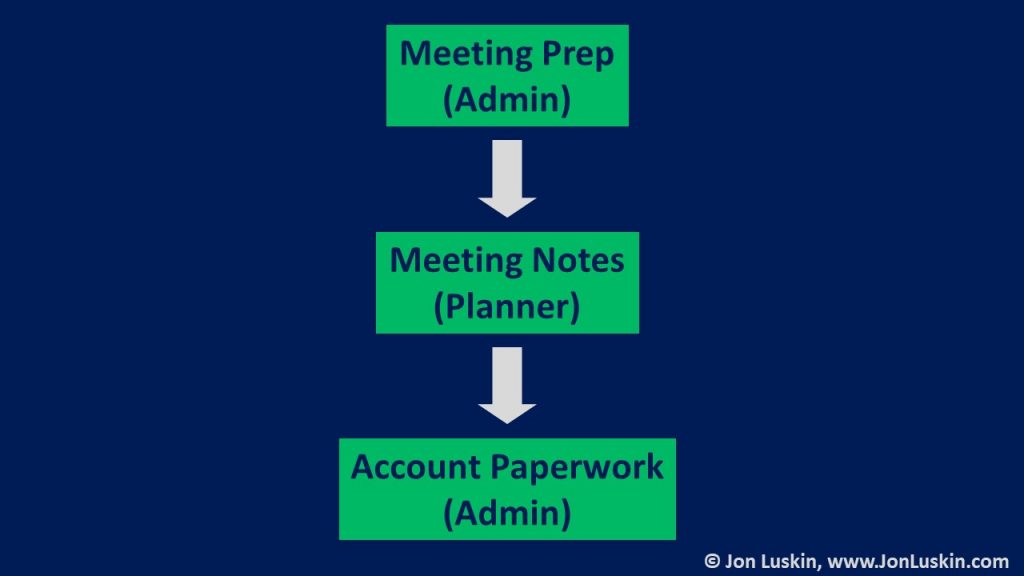 In a linear workflow, tasks are strung together, one after the other. Linear workflows likely work fine for smaller firms – when only a financial planner and administrative assistant comprise the team.
Linear CRM Workflows for Small Financial Planning Firms
Here's an example of how a linear workflow works within a small financial planning firm: the admin launches a meeting prep task. Steps for this task include putting out a fruit plate, printing a copy of the client's most recent performance report, and sending the client an appointment reminder (assuming that the last step isn't already automated by tech). With the admin's meeting prep task complete, the firm's one-and-only financial planner is then tasked with entering meeting notes after the client meeting. With the meeting note task complete, the firm admin executes any meeting follow-up, including drafting account opening paperwork, etc.
In short, for a small firm, being restricted to linear workflows in a CRM may not be a problem. But as a firm grows, your CRM needs to offer greater functionality, specifically the ability to produce non-linear, or branching, workflows. This provides the ability to launch multiple tasks off of a single task.
Non-linear CRM Workflows for Larger Financial Planning Firms
For financial planning larger firms, being restricted to linear workflows is problematic. That's because many firm processes aren't linear; there may be multiple team members serving a client simultaneously for a given firm process.
Onboarding a new client is a perfect example of when you need a non-linear workflow. Consider that when onboarding a new client, you may have the following team members executing the following:
a financial planner drafting a financial plan,
an administrator drafting account opening paperwork,
an investment manager drafting a portfolio proposal, and
a CPA reviewing a tax return.
Not all tasks are done successively; some tasks are done simultaneously. As such, it can be quite challenging to get all of the above to fit into a linear workflow.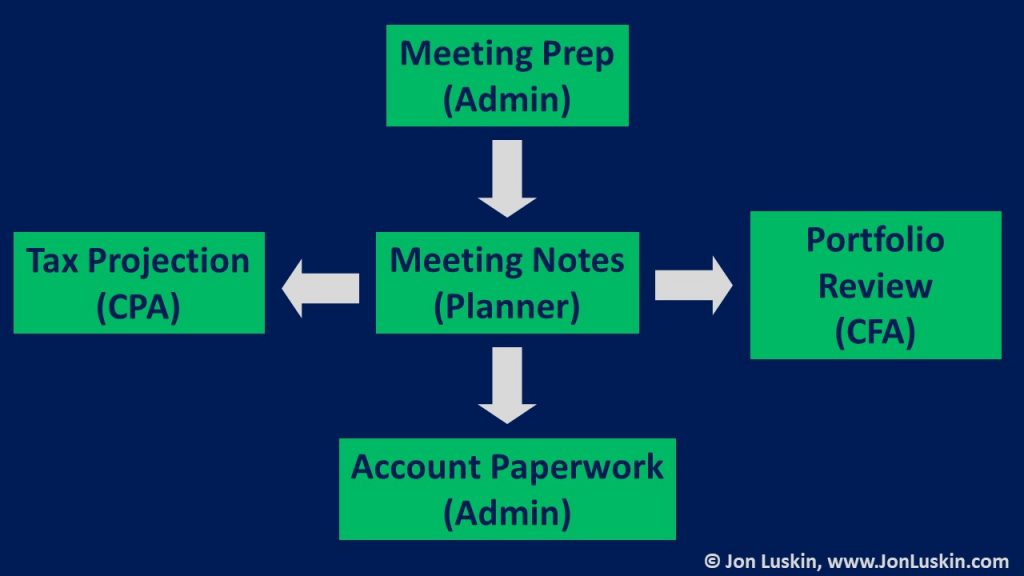 The chart above showcases the value of creating non-linear workflows. That's because – like in life – many projects are non-linear.
Getting Firm Buy in for a CRM
One of the biggest challenges with using a CRM is getting all team members to use the CRM – and to use it appropriately and consistently. If someone isn't pressing the right buttons in the CRM all the time, the ball may get dropped.
To my knowledge, there is no magical way to achieve instant and universal team buy-in of CRM utilization. (After all, you'll likely be dealing with the inertia bias of not using a CRM, or not using it properly. And as all financial planners know, overcoming inertia bias can be quite the challenge.) The only solution – I've accomplished – to mitigating team members who use a CRM poorly is to check in on their CRM tasks – and then check in with them.
At the very least, that's one great feature of a CRM. You can check in on a co-worker's progress on a task by checking their tasks within the CRM. This works great because, with a CRM, you know what other team members are supposed to be doing! This is especially useful in larger teams, where team members interact with others across distinct team specialties – and where one team member is not adept at determining if another team's task is complete (because it's out of their wheelhouse). This great feature of a CRM – seeing other team's tasks and their progress on them – also allows management to check in on their subordinates in a discrete manner.
---
So, which CRM do you use? What are its shortcomings? Do you use a CRM for every firm process? Do you further document processes in a procedures manual? How easy is it for various team members to update workflows? What have been your challenges and victories with using a CRM?