Executive Summary
1.) On average, buying insurance means you lose.
2.) Therefore, consider skipping insurance for small expenses – if you're emotionally comfortable with the (manageable) risk of that approach.
Insurance is best used to protect us from big losses—those we cannot afford to self-fund. When we self-fund, we manage expenses ourselves with our existing savings.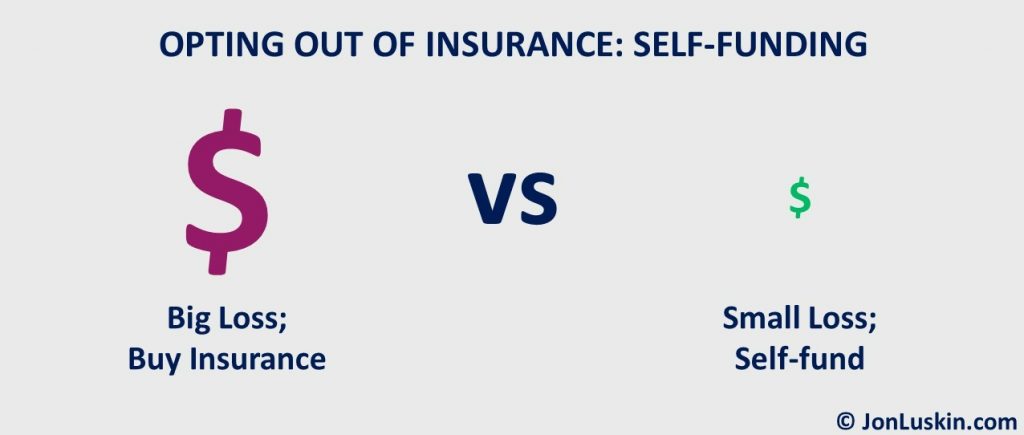 This approach explains why we generally want to use life insurance, disability insurance, and umbrella insurance. Those types of insurance provide coverage in millions of dollars. The stakes are big. Therefore, buying insurance makes sense.
On the other side of the coin, we generally want to skip insurance for minor losses, or losses too specific in nature. These include accidental death and dismemberment (AD&D), identity protection, child life insurance, many of the smaller add-on coverages available on auto and homeowner's/renter's insurance, and extended warranties.
Fate >Fate Will Spit in Your Face, Then Kick You in the Shins
>When skipping smaller coverages, be prepared for Murphy's law—the moment you opt out of coverage you've decided to self-fund for is the moment you'll suffer that financial loss. Yet,
that won't mean you made the wrong decision. Instead, you were unlucky
.
Fortunately, having decided to self-fund for a relatively smaller amount, you can afford it.
Paying Out of P>Paying Out of Pocket Doesn't Feel Good
this example of bearing risk via self-funding: buying an extended car warranty. Many reading this can manage the cost of replacing an engine or transmission. They have enough cash – and then some – in their emergency fund.
For them, declining to pay several hundred dollars for an extended car warranty makes sense. That's because those prudent savers could pay out of pocket for that expense. For them, opting out of an extended warranty coverage is reasonable.
You'll want to consider your feelings in setting yourself up to possibly pay that expense, or any other loss you can self-fund. That's why paying a little bit for insurance and self-funding for less isn't unreasonable. However, the technical (aggressive) approach that plays the odds best suggests self-funding whenever one has the financial means.
Making Insurance Claims for S>Making Insurance Claims for Small Expenses Means Losing in the Long Term
could make a small claim on your insurance, you probably don't want to. That's because making claims can mean paying more for insurance in the future.
Auto insurance is a good example of this. Imagine being in a small fender-bender. You're at fault. The damage to your vehicle and theirs tallies several thousand dollars. Should you make a claim? If you can afford to cover that expense without involving the insurance company, that could be the best approach.
When you make a claim with your insurance company, you can be categorized as high-risk. Since you've made a claim in the past, you're more likely to make another in the future, the insurance company reasons. You are now considered a more expensive customer. To manage that additional risk (cost), the insurance company will charge you more money—every single year, forever.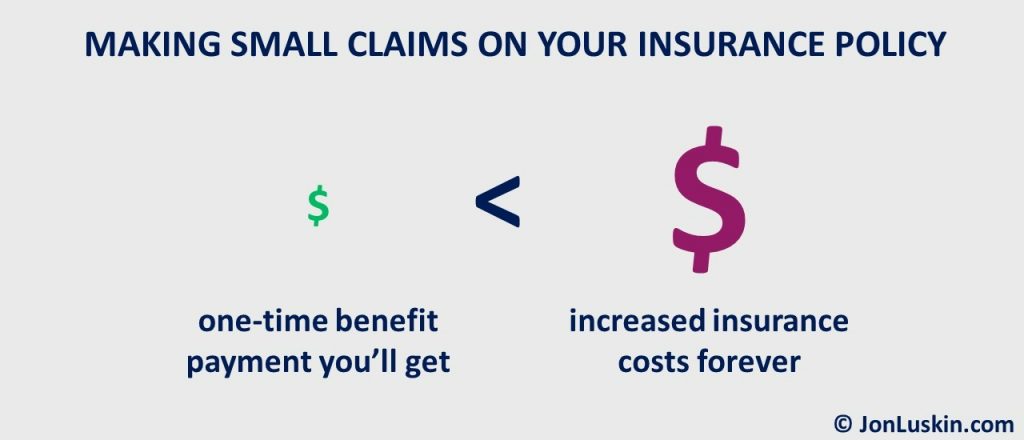 Switching insurance companies won't matter. That's because your claims history shows up on your CLUE report.
In short, even if you come out ahead in the short term by making a small claim on an insurance policy, you lose in the long term. Therefore, it only makes sense to make a claim if the risk is huge (if not receiving a benefit payment from insurance would be an extreme financial loss). Consumer expert Clark Howard makes this point in a recent episode of his podcast: use insurance to protect you from big financial losses.
Should I Use an Insurance Broker to Shop for >Should I Use an Insurance Broker to Shop for Me?
> get a less expensive rate by shopping directly yourself. That's because there's no middleman – the insurance broker. Of course, generally using a broker should be fine – because it's not as if paying slightly more for insurance is going to derail any retirement plan.
More important than whether you use a broker or not is reviewing the credit rating of the insurance company – as well as their customer service reviews. Amica Mutual, for example, has some of the highest ratings for customer service.
Automate Bill Pay to Ensure Continuous Insurance >Automate Bill Pay to Ensure Continuous Insurance Coverage
n automatic bill pay with your various insurance providers. Life can get in the way of remembering to pay any number of bills. Automated bill pay makes that process easier.
Key Takeaways on Using Insurance
>
Key Takeaways on Using Insurance
can mean saving money in the long-run.
Holding sufficient cash helps manage the risk of small expenses.
Automate bill pay to ensure continuous insurance coverage.