SUMMARY:
Pay off debt if bonds make up any part of your investment portfolio. Even with a portfolio as aggressive as 90% stocks and just 10% bonds, anything with a non-zero interest rate should be paid off.

This idea – to prepay debt if investing in bonds – comes as a surprise to those investors doing risk arbitrage: borrowing to invest in a riskier, potentially higher-returning investment.

In this post, I give three explanations, starting with the simplest, why prepaying debt (when investing in bonds) makes sense. At the end of the post, I offer strategies for prepaying debt.
Stock Risk Arbitrage and Mortgage Arbitrage: Borrowing Money to Invest in the Stock Market
On a cool night in San Diego's North Park, the wife and I were schmoozing with a couple of fellow money nerds. Over chips and salsa, our friends shared that they were working on a cash-out mortgage of their home. While reading over the various paperwork, our friends had learned that the cash-out mortgage had a clause limiting what they could do with their own money! The mortgage document declared that our fellow San Diegans could not use the proceeds to invest in the stock market. In other words, they would be prohibited from doing mortgage arbitrage.
Risk Arbitrage: Using Debt to Invest
The umbrella term for investing while holding any kind of debt is risk arbitrage. With risk arbitrage, an investor borrows money, paying an interest rate on it. Then, that borrowed money is invested. The goal of risk arbitrage is to earn a higher rate of return on the investment than the amount paid to borrow money.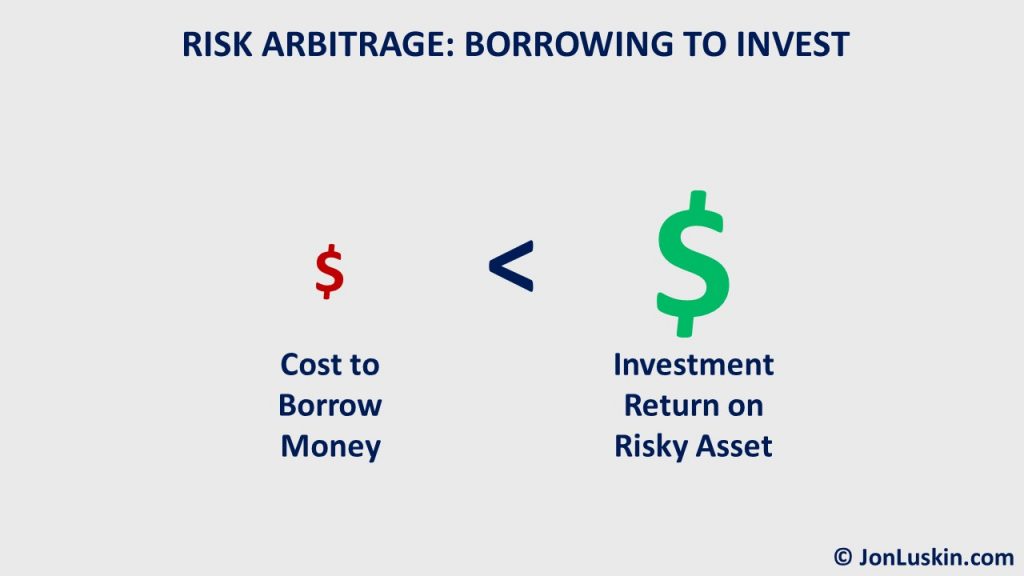 Mortgage Arbitrage: Not Prepaying a Mortgage, But Using Spare Cash to Invest
Mortgage arbitrage is a type of risk arbitrage. An investor holds a mortgage (i.e., debt). Instead of prepaying (making extra payments toward) that mortgage, that investor uses spare cash to invest. If investing in the stock market, that investor hopes to make more money by investing in stocks than paying mortgage interest.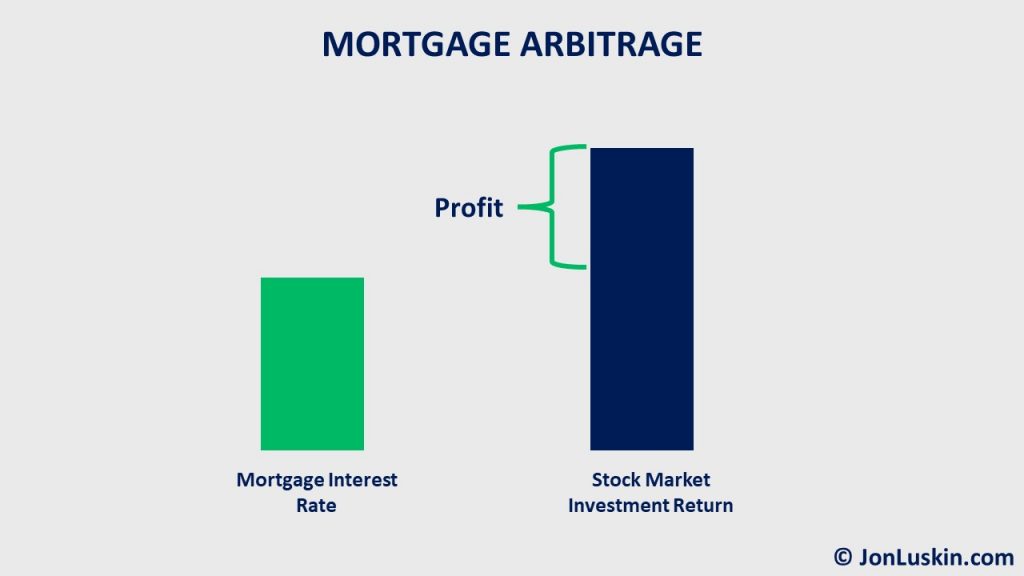 If investing in only stocks, borrowing to invest more could be appropriate. However, holding just a small amount of bonds in a portfolio suggests that paying off debt is better. Said again, mortgage arbitrage might make sense for 100% stock investors. However, that changes when an investor holds bonds in their portfolio.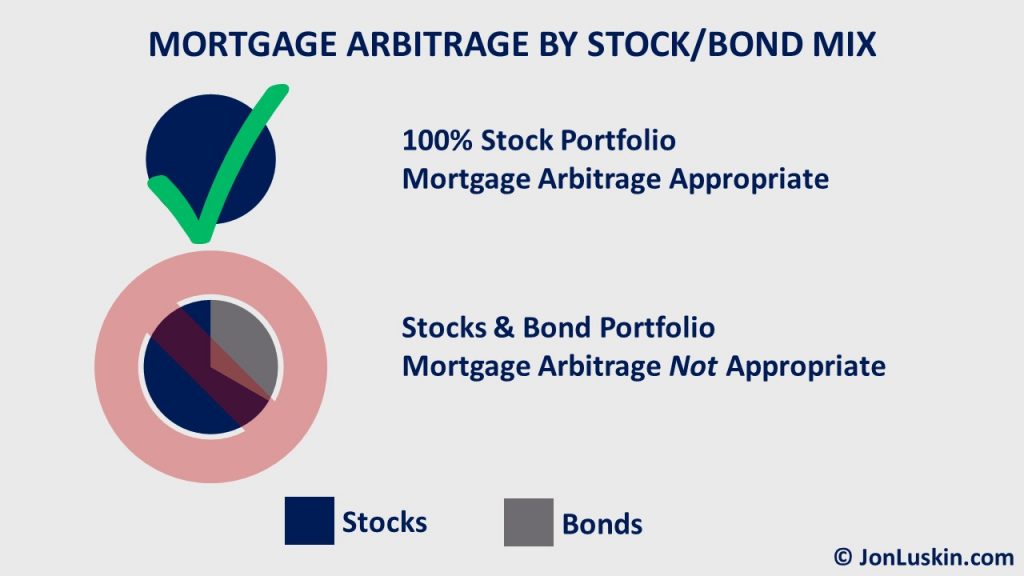 Here I'll explain why investing in bonds while holding debt does not make sense in three – increasingly complex – ways:
The interest rate to borrow money is higher than the interest rate on bonds.
Borrowing money to invest in bonds means earning a smaller investment return for the same risk as a 100% stock investor.
With a fixed stock risk premium and therefore low interest rates, suggesting low future stock returns, risk arbitragers have a limited opportunity to profit.
Borrowing at a Higher Interest Rate than the Investment Return on Bonds
The simplest explanation showing the value of prepaying debt when holding bonds in your investment portfolio considers:
the cost to borrow money, and
the rate of return you can earn on that borrowed money.
A 15-year mortgage costs ~2.3%. Compare this to the investment return on bonds; if investing in bonds that provide the best diversification from stocks (Treasuries), you might expect an investment return just short of 1%. Right now, Vanguard's intermediate-term Treasury bond fund pays interest at 0.9%. For a total bond market fund, you can expect a bit more: ~1.3%.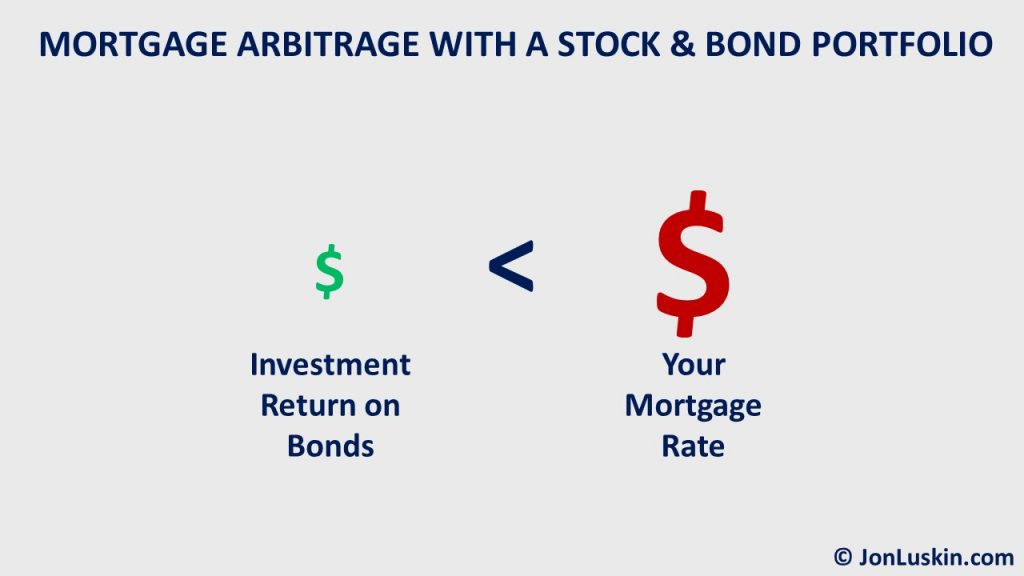 You don't need to be a financial planning nerd to know that borrowing at 2.5% to invest at ~1% is not a sound investment strategy. Yet, that's what investors are doing when they invest in bonds while simultaneously holding mortgage debt.
Given the guaranteed negative investment return of mortgage arbitrage when investing in bonds, that suggests any investors with bonds in their portfolio should prioritize paying down debt. If they do, then they won't be borrowing at 2.3% to invest at 1%.
This concludes the first – and simplest – explanation of why borrowing money while investing in bonds doesn't make sense: borrowing at a higher interest rate than the investment return on bonds.
Borrowing to Invest More with a Bond Portfolio Means Enduring the Same Risk to Earn a Smaller Investment Return
The second – and slightly more complicated – explanation of why mortgage arbitrage with a bond portfolio doesn't make sense considers risk and return. Stock and bond investors doing mortgage arbitrage aren't adequately compensated for taking on risk; they're not earning enough return for the risk they're bearing.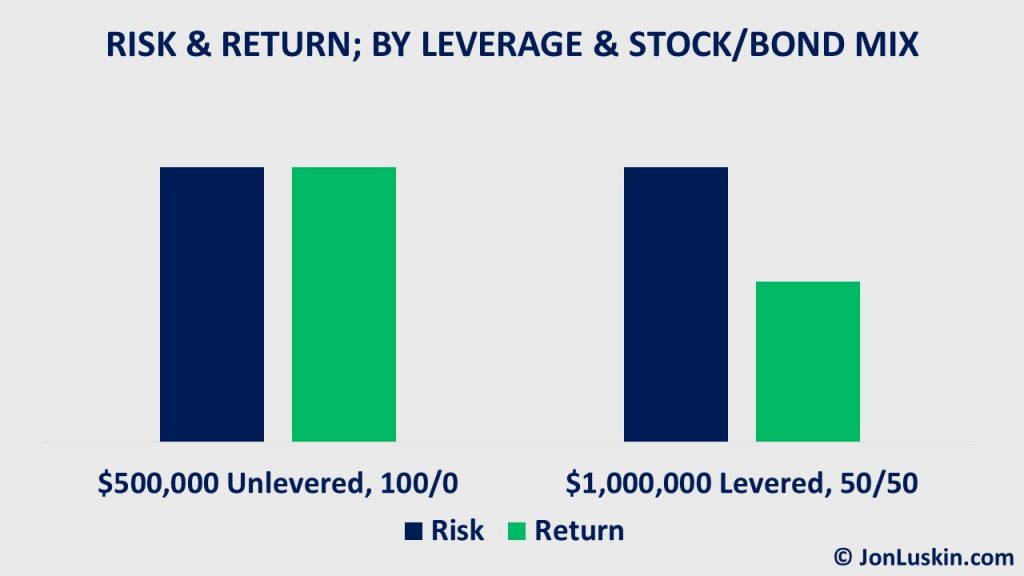 The Relationship Between Risk and Return
In investing, if you want a higher return, you must take on more risk. If you can't bear risk, you need to settle for a smaller investment return. (If anyone tells you otherwise, run screaming from that annuity salesman, private real estate fund manager, or other peddler of high-fee investments.)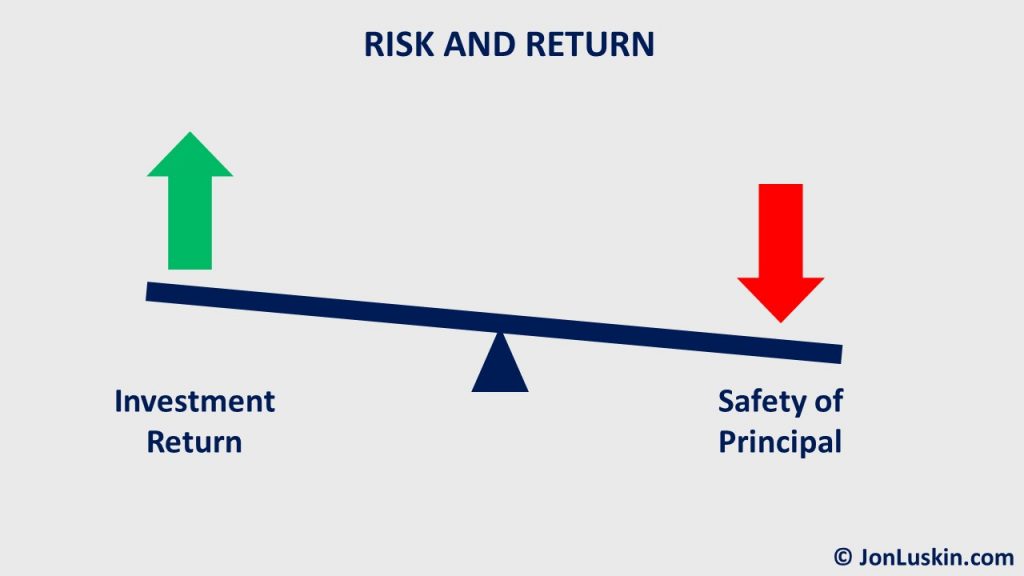 An Example: Same-Risk-for-Less-Return When Borrowing to Invest in a Bond Portfolio
Imagine two neighbors, living in identical homes across the street from one another:
Donald Debt
Freddie Freeandclear
Both have the same net worth: $1,500,000. Both own homes worth $1,000,000. And, both are good Bogleheads, using low-cost index funds to invest.
But, their similarities end there. Donald Debt has a $1,000,000 investment portfolio – twice that of Freddie Freeandclear, whose portfolio is worth only $500,000. Yet, Donald Debt also has a mortgage balance of $500,000. Freddie Freeandclear owns his $1,000,000 home mortgage-free.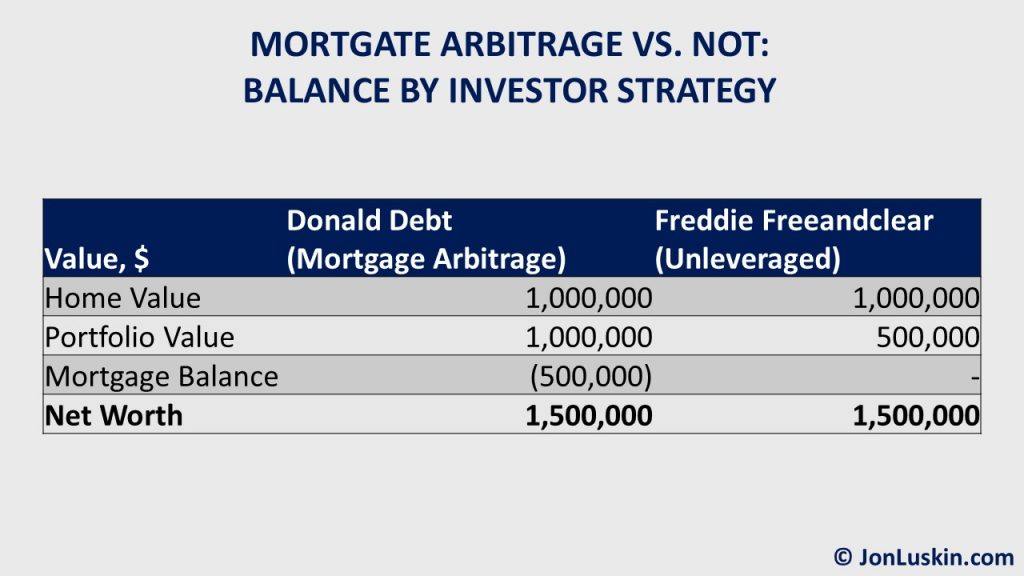 Donald invests in a 50% stock and 50% bond portfolio. Freddie invests in a 100% stock portfolio. Even though Donald's portfolio ($1,000,000) is twice the size of Freddie's ($500,000), both investors have the same dollar amount invested in stocks: $500,000.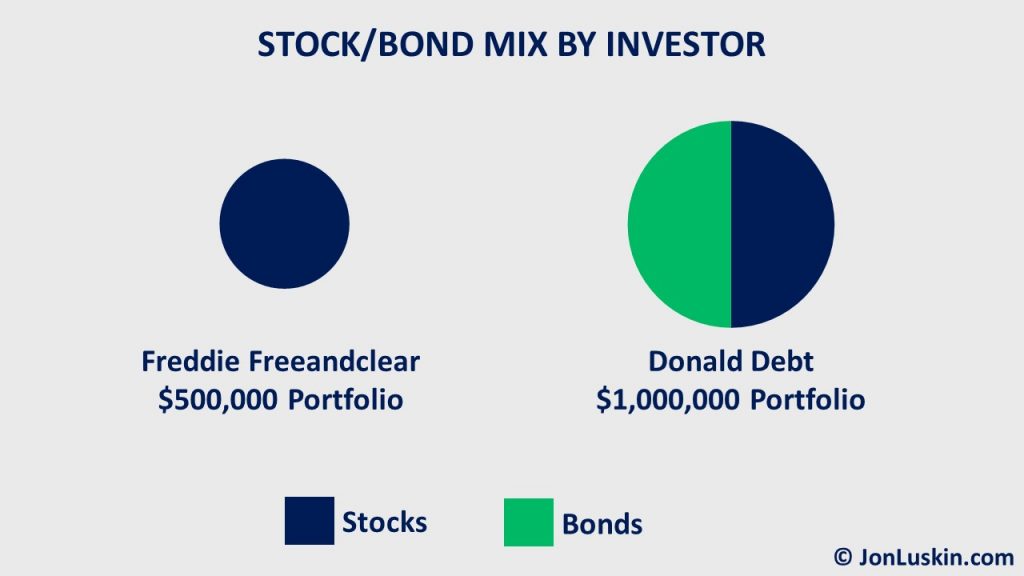 Over the next year, stocks return 10%, and bonds return 1%. All the while, Donald Debt pays 2.5% on his $500,000 mortgage balance.
Guess which investor does better? It's Freddie Freeandclear. By borrowing half a million dollars at 2.5% to invest that money at 1%, Donald's portfolio underperforms Freddie's by the net amount that Donald loses by borrowing to invest in bonds: $7,500.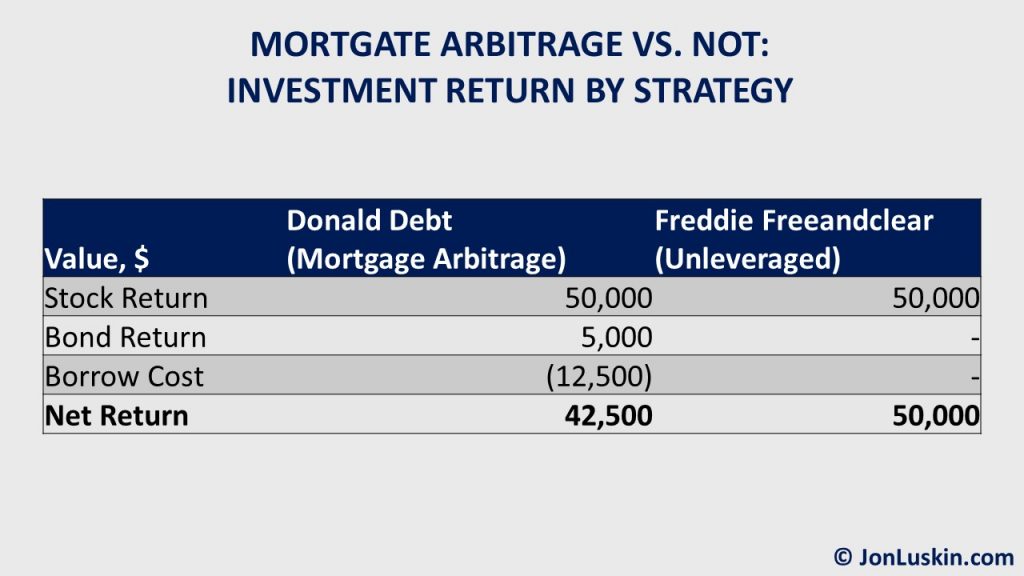 In the example above, I used a 10% return on stocks. Yet, any investment return puts Freddie ahead.
Of course, some readers may object to the debt-free investor having twice the stock percentage as the debt-laden investor. However, both investors have the same amount invested in stocks: $500,000. Said another way: with both investors investing the same dollar amount in stocks, both are taking the same amount of risk – as measured both by dollars and as a percent of their net worth.
Moreover, with no mortgage payment, Freddie can take more risk than his leveraged neighbor. Therefore, at least compared to Donald, a 100% stock portfolio for Freddie can make sense.
Ultimately, the numbers show that Donald Debt earns a smaller investment return than Freddie Freeandclear. Yet, Donald is taking on the same risk! Said simply: when you invest in bonds and stocks – and borrow to do so – you take the same risk, but earn a smaller investment return. Said even more succinctly: same risk, less return.
Limited Opportunity for Profit with Mortgage Arbitrage: Lower Interest Rates Suggest Lower Stock Returns
At last, we have arrived at the third – and most complex – explanation of why mortgage arbitrage when investing in bonds doesn't make sense. Mortgage arbitragers need to evaluate the historical risk premium and the current risk-free rate, not the average historical stock return. In doing those calculations, investors may find that their investments return less than anticipated.
Miscalculating Expected Stock Returns in 2021
Today, many investors aren't eager to pay off debt. That's because they see interest rates at all-time lows. With low rates, they assume they should earn a high-enough investment return on stocks. Therefore, borrowing to invest more in stocks makes sense to them. That thought process can be summarized as:
Stocks have earned X% historically. My mortgage rate today is <X%. Therefore, I'm going to make money.
However, average historical stock returns occurred during average interest rates, when bonds paid multiple times the interest they do today. That's why the above is an apples-to-oranges comparison.
Arbitragers may incorrectly assume that with stocks earning 10% on average historically, investors should expect that same 10% investment return. That conclusion is problematic because stock returns don't occur in a vacuum; they're determined by interest rates.
Low Interest Rates Mean Low Stock Returns
The relationship between rates and stock returns is simple; stock returns increase as interest rates increase. The opposite also applies; if interest rates are low, stock returns will also be low.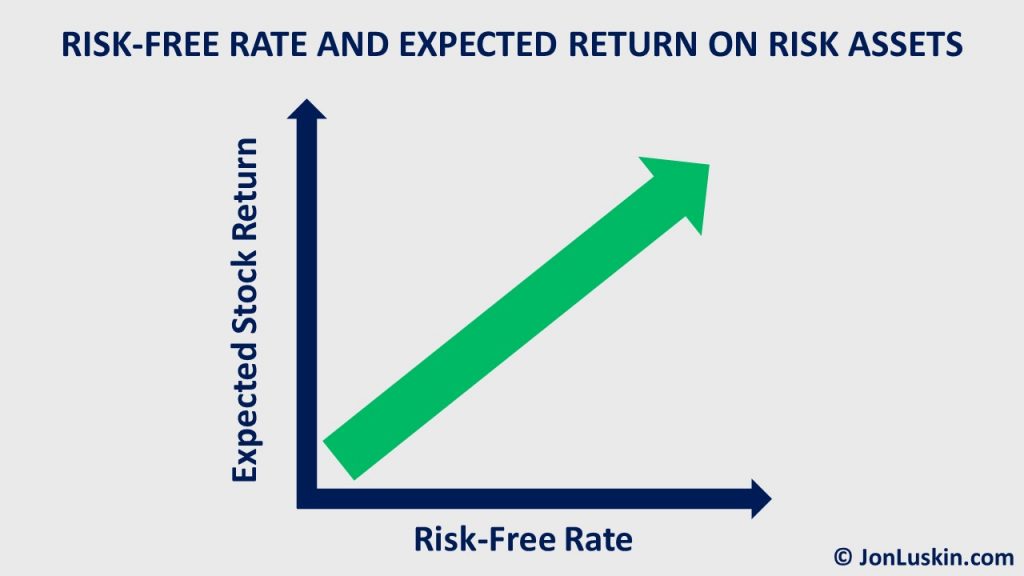 Consider today's investing environment: interest rates are low. With bonds paying so little, many investors and their advisor proxies have decided that investing more in stocks (and high-fee alternative assets) makes more sense. The increased demand for stocks pushed stock prices upwards. High stock valuations suggest future lower investment returns.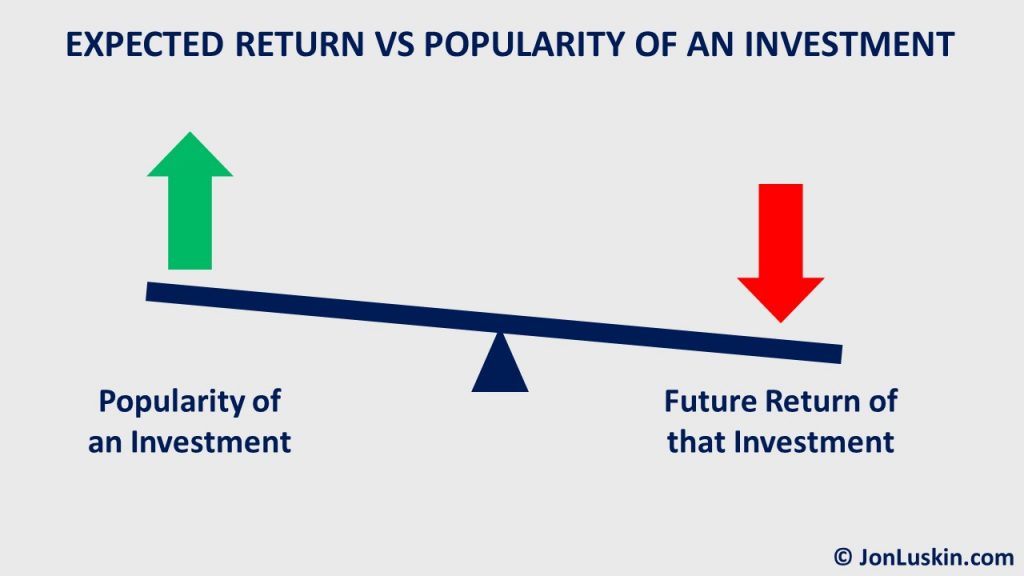 In short, arbitragers shouldn't assume that low interest rates mean the chance to borrow money cheaply, and earn an even higher return on stocks. Such arbitrage may not work because future stock returns may be below average.
Calculating the Historical Stock Risk Premium and Expected Future Stock Returns
To calculate the future expected investment return on stocks today, we can add the historical stock risk premium to today's risk-free rate.
The Historical Stock Returns & Risk-Free Rate
According to data from Shiller, U.S. stocks averaged 8.4% between 1871 and 2016. During that same period, the one-year Treasury bill paid an average of 4.8%. (These figures – like mortgage rates – are not adjusted for inflation.)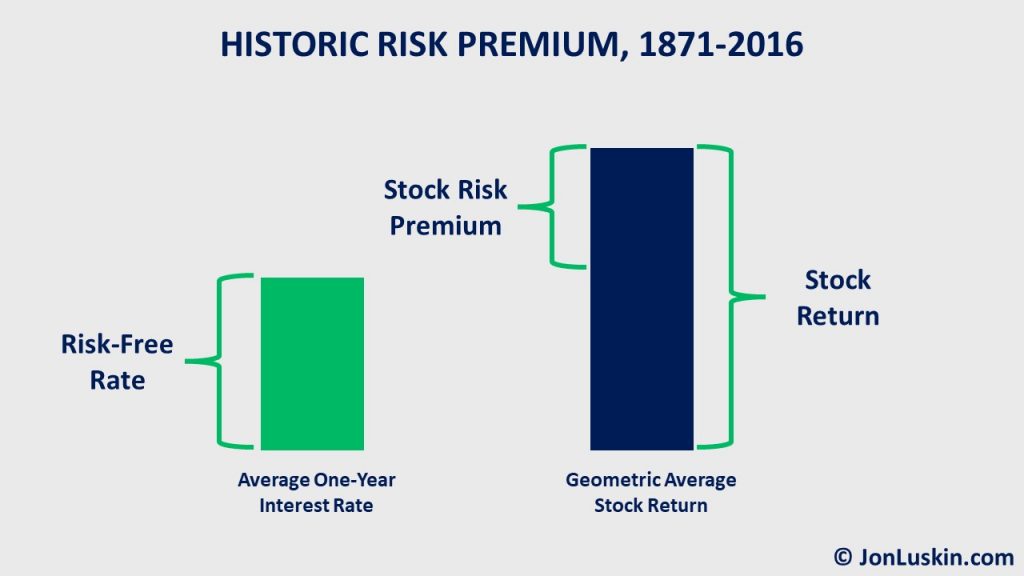 Consider one-year Treasuries as the risk-free rate: the investment return earned without taking any risk. This risk-free rate is what investors could expect with an FDIC-insured savings account at a bank.
Calculating the Stock Risk Premium
Subtracting the 4.8% historical risk-free rate from the 8.4% historical stock return nets the 3.6% stock risk premium: the extra investment return earned over the risk-free rate.
Return on Stocks (8.4%) – Risk-Free Rate (4.8%) = 3.6% Stock Risk Premium
3.6% per year is how much more an investor earned by investing in stocks and not risk-free one-year Treasury bills.
Calculating the Expected Return on Stocks in 2021
Above, I explained how today's mortgage arbitragers might make an apples-to-oranges comparison: forecasting future stock returns based on historical interest rates. For an apples-to-apples comparison, consider today's interest rates to estimate future stock returns.
Between 1871 and 2016, the stock risk premium – the difference earned investing in stocks versus bonds – has been ~3.6%. To determine our expected stock market return, we add today's risk-free rate to the historical stock risk premium.

Today, the risk free-rate on one-year Treasuries is 0.07%, or ~0%. Of course, adding this to the historic stock risk premium of 3.6% just gives us an expected return on stocks of ~3.6%.
Today's Risk-Free Rate (0%) + Risk Premium (3.6%) = Expected Stock Return (3.6%)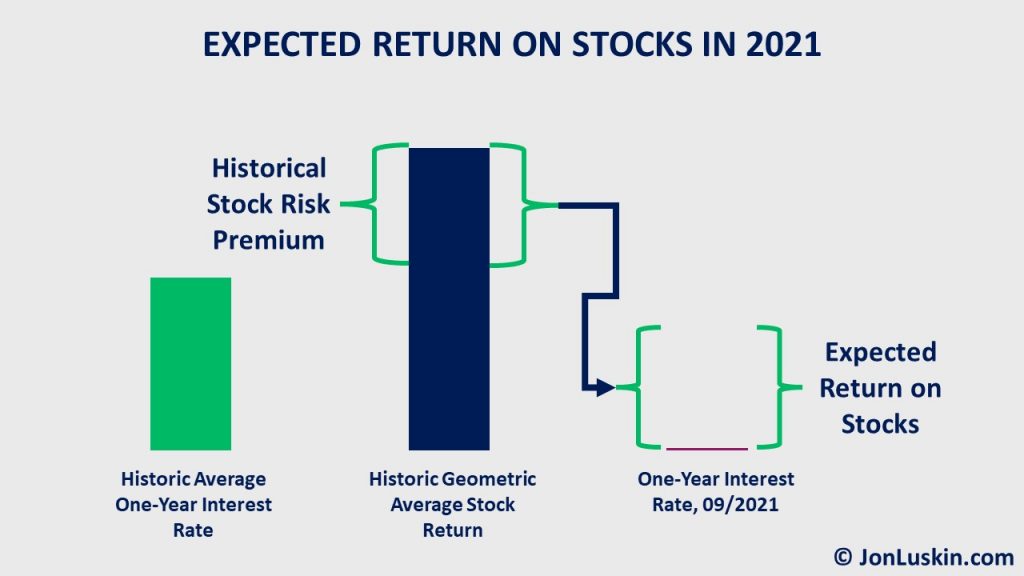 Calculating the Return of Mortgage Arbitrage in 2021
As explained, investors might expect a 3.6% investment return from stocks today. If holding a mortgage while doing this, mortgage arbitragers might expect to come out ahead by ~1% after paying ~2.5% mortgage interest. Said again, given a 2.5% mortgage interest rate, the expected profit from mortgage arbitrage is just ~1%.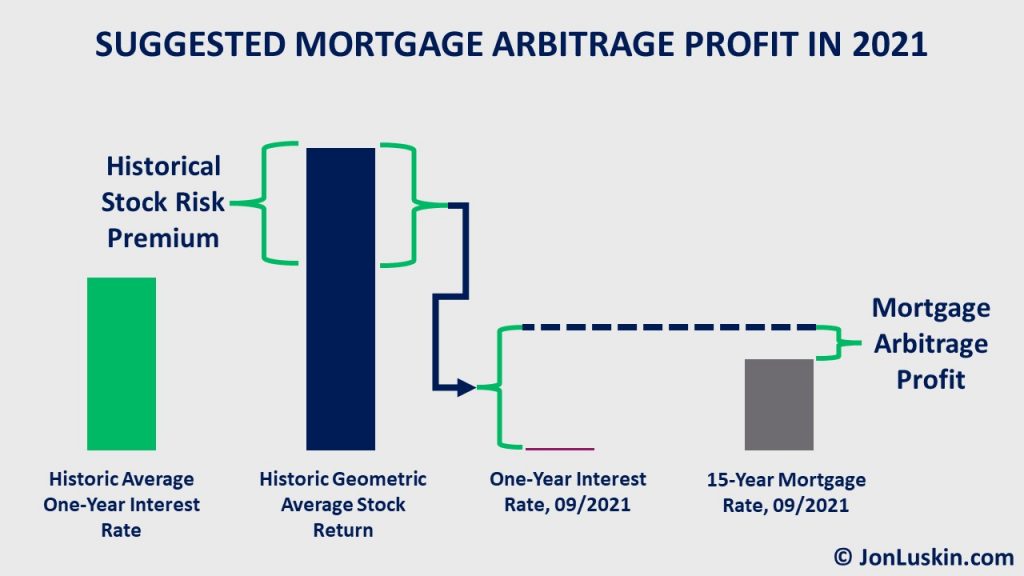 This ~1% profit is quite far from the ~7.5% that many of today's mortgage arbitragers would assume.
Calculating the Return of Mortgage Arbitrage When Investing in Bonds
However, the calculation above assumes a 100% stock investor. And, many mortgage arbitragers aren't.
We can use this 3.6% expected stock return with the previous example of Donald Debt and Freddie Freeandclear:
Freddie earns 3.6% on his $500,000 all-stock portfolio: $18,000.
Donald again underperforms Freddie by the exact amount that Donald loses investing in bonds: $7,500.
As mentioned above, with a 50/50 mix, it doesn't matter how stocks perform. Donald will always underperform Freddie by the net amount Donald loses by borrowing to invest in bonds.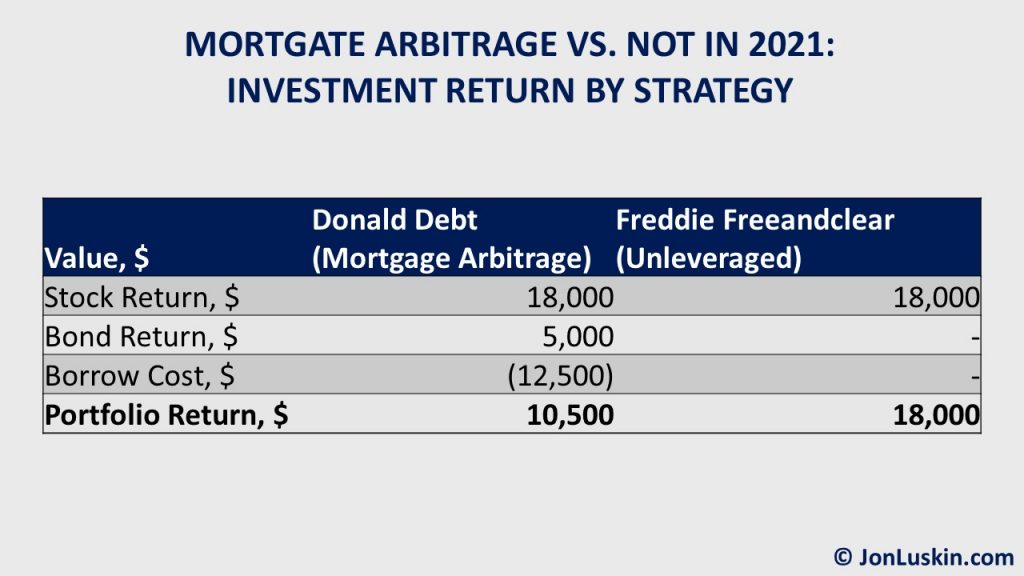 In fact, Donald Debt would need an ~80% stock portfolio to earn a similar dollar return as a 100% stock portfolio. (This assumes a 2.5% borrow rate.) That leveraged 80/20 investor would earn the same total dollar return as with a 100% unleveraged portfolio. Yet, the 80/20 arbitrager bears more risk by holding almost $300,000 more in stocks.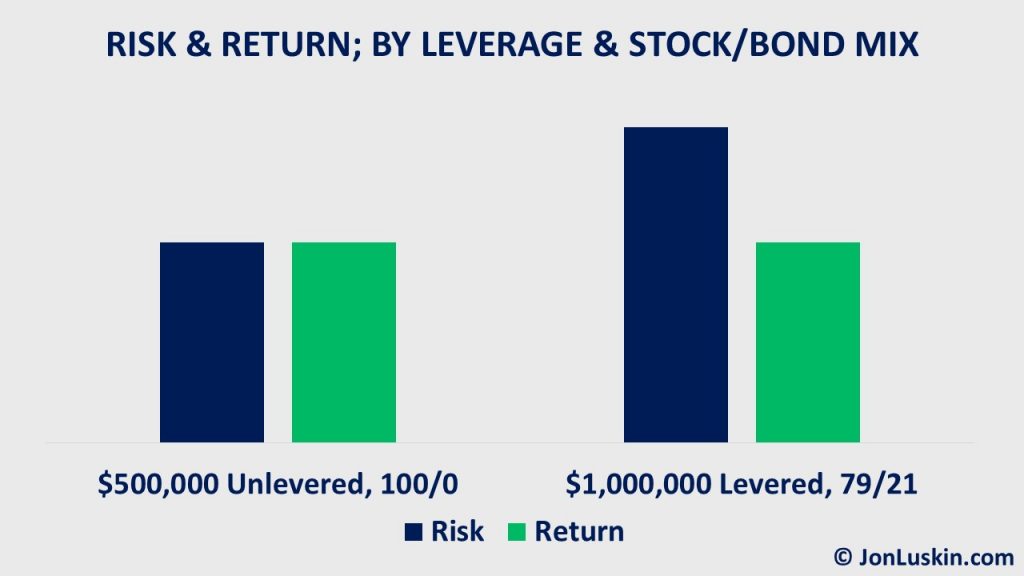 Even assuming 10% stock returns, the mortgage arbitrager still has to hold almost $100,000 more in stocks to earn the same return as the unleveraged investor: same return, more risk.
Considerations in Paying Down Mortgage Debt
Mortgage arbitrage might make sense when not investing in bonds. Those 100% stock investors may see a net ~1% investment from not prepaying a 2.5% mortgage. However, for those investors holding bonds in their portfolios, their best bet is to pay off debt.
This conclusion applies to all debt – not just mortgage debt. If you hold debt, and bonds make up a part of your investment portfolio, pay off that debt.
Yet, while the idea to prepay debt is simple, doing it can be more complicated. What follows are some considerations for paying down debt.
Sourcing Funds to Pay Down Debt
Those with debt may not necessarily be sitting on a cash account in an amount greater than their debt. Even then, paying down that debt can mean depleting cash reserves.
If that's the case, investments may need to be sold to either generate cash to pay down the mortgage – or generate cash to build back up cash reserves. (It's the same thing, since money is fungible.)
Those investors unable to access retirement accounts without a penalty may wish to spreadsheet out the value of selling positions in their taxable account – realizing capital gains – to pay off debt. In doing that calculation, consider:
the tax bill generated from realizing capital gains (selling investments), compared to
the mortgage interest, and
the future tax bill from dividend and interest distributions for those investments not sold.
To minimize taxes, prioritize selling higher-cost basis positions first. Learn more here.
For those investors who can access their retirement accounts (IRA, 401(k), etc.) without the early withdrawal penalty, they will need to determine the most tax-efficient distribution strategy – sourcing funds across their various accounts – to pay down their mortgage.
Using a Line of Credit to Access Cash
For investors wary of spending down debt to pay off their mortgage – because they want quick access to cash – they can consider another less expensive strategy: using a line of credit.
A line of credit is available with either a HELOC or via a home equity conversion mortgage (HECM), a type of reverse mortgage insured by the Federal Housing Administration (FHA).
With a line of credit, you can access cash when you need it. And when you don't need it, you don't have to pay interest on it. Using a line of credit as needed is much more cost efficient than taking out a mortgage, paying 2.5% on $500,000, and then investing that $500,000 in a savings account earning 0%.
---
Those looking to leverage their investment portfolio by not prepaying their mortgage (or other debt) should carefully consider their approach. For those investors with very aggressive portfolios – such as 100% stocks – it can make sense not to prepay their mortgage. However, for investors with relatively less aggressive allocations (those holding any amount of bonds), holding debt means settling for a smaller investment return while bearing the same amount of risk as their 100% stock allocation peers. That's why prepaying debt can make sense for investors who don't have 100% stock allocations.